General Stratigraphy of the Western Massif
Vega Huerta - Carbanal Formation
Era
Stephanium Carboniferous
Kasimovian Age
Description
With a minimum thickness of 200 m, this unit is made up of a series of black and grey, thinly bedded, bioclastic limestones and shales with olistostromes
Picos de Europa Formation - Upper Member
Era
Westphalian Carboniferous
Moscovian Age
Upper - Myachkovskian
Middle - Podolskian
Lower - Kashirskian
Description
Resting on red crinoidal limestones of a few metres, this 500 m high member is made up of massive, white and fossiliferous limestones with pink coloration that becomes more frequent higher up.
Picos de Europa Formation - Lower Member
Era
Westphalian Carboniferous
Moscovian Age
Vereiskian
Description
Formed by about 150 m of dark, thinly bedded bioclastic limestones, that alternate with abundant chert and shale levels.
Caliza de Montaña - Valdteja Formation
Era
Namurian Carboniferous
Bashkirian Age
Description
Massive grey limestones, sometimes with fossils. Beds may include macrofauna and seaweed, or more frequently, microfauna.
Depositional Environment
This series formed as local carbonate platforms within a foredeep. Sub-tropical marine conditions occurred in the area around the Picos de Europa, which favoured very thick carbonates formation under a high sedimentation rate (125 m/ma).
Caliza de Montaña - Barcaliante Formation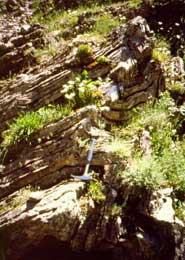 Folded limestones of the Barcaliente Formation.
Era
Namurian Carboniferous
Serpukhovian Age
Description
Black, thinly bedded limestones, often laminated black - white, each often only cm thick. Chert layers.
Depositional Environment
These rocks have been generated with far lower rates of sedimentation (20-25 m/ma) and under conditions of deep sedimentation.
Genicera (Alba) Formation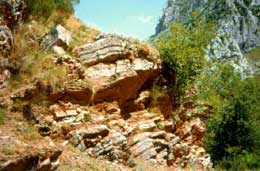 The limestones of the Genicera Formation usually have a red color as seen here near Alba.
Era
Diantian Carboniferous
Visean Age
Description
Red nodular limestones reaching a thickness of about 50 m.
Depositional Environment
Its depositional environment is that of a low angle marine shelf. A very low rate of sedimentation occurred.
Vegamián Formation
Era
Dinatian Carboniferous
Tournaisian Age
Description
Black shales.
Ermita Formation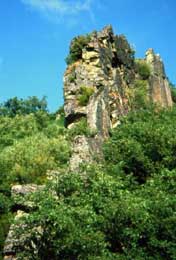 Sandstone ribs of the Ermita formation in the proximity of Llomberas
Era
Devonian
Famennian Age
Description
Calcareous sandstones.
Portillas Limestone
Era
Devonian
Givetian Age
Description
Massive pale limestones.
Barrios Formation
Era
Ordovician
Upper - Arenigian Age
Lower - Tremadocian Age
Description
White quartz sandstone with some interbedded micaceous shale and a single K–bentonite bed. Sandy shale and conglomeratic beds occur in the middle of the formation and characterise this part of the formation.
Depositional Environment
The depositional setting of the Barrios Formation is believed to be marine as suggested by the repeated occurrence of near shore trace fossils at multiple levels and also by deeper marine facies that include olenid trilobite beds and graptolitic shales.
These can be found around Vegabaño.
Oville Formation
Era
Cambrian
Upper - Potsdamian Age
Lower - Acadian Age
Description
Green mudstones and scarce glauconitic fine-grained sandstones, with trace fossils.
Depositional Environment
Ichnofossils reflect soft substrata very rich in nutrients, exploited by a diversity of soft-bodied organisms together with trilobites in an open sublittoral setting.
Bibliography
Geology and speleogenesis of the M2 Cave System, Western Massif, Picos de Europa, Northern Spain, Kevin J Senior (YUCPC), Cave Science, 1987, 14, 3, 93-104, in English. PDF (5MB)


Cantabrian Geogallery, in German