Picos '86 Summary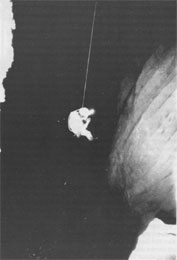 With prospects in Pozo de Cuetalbo (M2), beckoning at -634 m, looking so good a large team from England descended upon Vega Huerta. Together with SEII, this allowed further exploration of M2 and other significant finds:
The exploration of Pozo de Cuetalbo (M2) by York and SEII continued, increasing in depth from 635 m to 948 m, with a pitch estimated at 20 m to descend.

The final rift in Pozu de Vega Huerta (I8), previously explored in 1984, became choked only 8 m further than the 1984 limit of exploration - final depth -195 m.

a30 was pushed down large pitches, enabling a depth of -300 m to be reached without hardly getting off the ropes.

Exploration of Pozu la Llerona (b10), mainly carried out by our partners, SEII, continued to a final depth of -480 m.

p103, an enjoyable cave was pushed to a depth of over -400 m.

Scientific work including water tracing was carried out.
It had been decided in England, that to enable further exploration in Pozo de Cuetalbo (M2), an underground camp would have to be installed. Unfortunately, no suitable location was available. The cave was rigged during the first week and pushing trips commenced.
The cave immediately changed character: the normally awkward and tedious passage vanished; huge passage with boulder strewn chambers appeared. Additionally, exploration tends to be linear in this area, but here a multitude of leads had to be faced. Fortuitously, the area was suitable for an underground camp at -750 m.
This area of large phreatic passages was explored and a wet vadose series, Meandro Enfermo, concluded at -823 m. A connection was made form here into pitch-ramp series which continues at a depth of -948 m in boulder floored passage.
The character of Pozu la Llerona (β10) changed at -300 m, the previous limit of exploration. Down to that depth, the cave is made up of large open shafts and boulder floors. From here, tight meandering passage became the norm and a further 150 m depth was added giving a final depth of -480 m.
Found on top of a ridge, during the latter half of the expedition, p103 was pushed to a depth of over -400 m in just four trip over one week. This was a popular alternative to M2, providing great enjoyment.
Minor Finds
A number of other caves were found, explored and surveyed. Most notable
UK Contingent
| | | | |
| --- | --- | --- | --- |
| Dave Ashley | Gareth Davies | Steve Foster | Simon Fowler |
Bibliography