Picos '84 Summary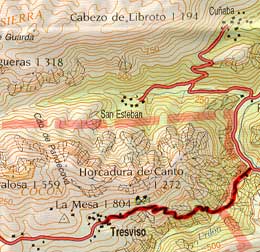 During this expedition, the club visited three areas within the Central and Western Massifs;
Brana de Huesa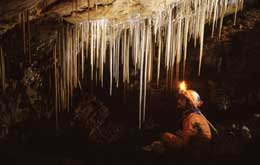 Base camp, near Robriguero, was in an area of mine workings. Many of the mines are driven only a few metres into the rock, often following natural cave features. The longest, Mina Magdalena, intersected major natural passage in three places. Unfortunately, spoil dumped from the mine into these passages blocked any way on. They were some of the best decorated that we have found, with excellently decorated grotto and whole walls covered by cup-like formations.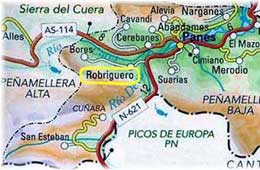 Brana de Huesa was again limited in scope for exploration. It is a very confusing area of grassy depressions, with many of the obvious depressions choked with earth. There are a few open shafts, one of which is of note. Pozu Brana de Huesa (No. 52) has a 45 m entrance shaft, blocked at the bottom by the usual boulder (and animal) choke. A window leads down to a constricted and sharp 30 m pitch with a ridiculous squeeze to the top of a spacious 100 m shaft. Below this, the going gets smaller. A couple more short pots leads to a narrow, well decorated rift passage, becoming too tight at a depth of 218 m.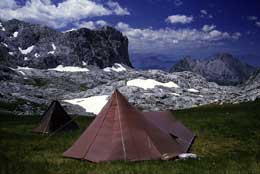 Vega Huerta
Within a short space of time, four caves going past 100 m depth were found. Two blocked with boulders; whilst the other two (I8 at -195 m and M2 at -259m depth) continued deeper. With large stream ways, these were promising leads for a return expedition to Vega Huerta in 1985. Further, there was an obvious abundance of unexplored entrances to occupy the clubs for many more years.

Pozu de Vega Huerta (I8)
Pozu de Vega Huerta (I8) is situated in an area of bare limestone between top camp and Peņa Santa.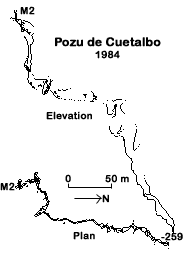 The pot comprises a 100 m deep snow lined shaft, entering a 60 m conical chamber at its apex. A loose climb at the top highest point in the chamber leads to a 30 m pitch into a boulder-choked chamber at 195 m depth. From the lowest point of the main chamber, an interesting climb up drops into a rift with a large stream way entering, before reaching an 8 m pitch, the conclusion of exploration this year at 189 m depth.
Pozu de Cuetalbo (M2)
Pozu de Cuetalbo (M2) was the best find. Down to its present depth at 259 m, it's a sporting trip, managing to fit in several superb pitches, some tight, gear-wrecking passage, and enough loose boulders to cause several headaches! There are several stream ways, and the Hanging Gardens of Babylon contain some fine formations.
Bibliography
Expedition to the Picos de Europa 1984, Caves & Caving, Aug 1985, 29, 26-28 Dave Lloyd, YUCPC. PDF (964KB)